Projects
Japan's Solution for UAE Innovation/
HR Development/SDGs
The Ministry of Economy, Trade and Industry of Japan (METI) and the Ministry of Industry and Advanced Technology of UAE (MoIAT) launched the "Japan-UAE Coordination scheme for Advanced Technology (JU-CAT)" for the development of future innovation and young human resources. JU-CAT has become one of the pillars of "Japan-UAE Innovation Partnership (JUIP)" launched by the Japanese Prime minister and the president of UAE.
Emirati investors can invest in Japanese startups interested in doing business globally through this scheme. Conditions of investment may include contribution to human resource development in the UAE. Technologies that are a better fit for the Middle East than Japan are highly supported.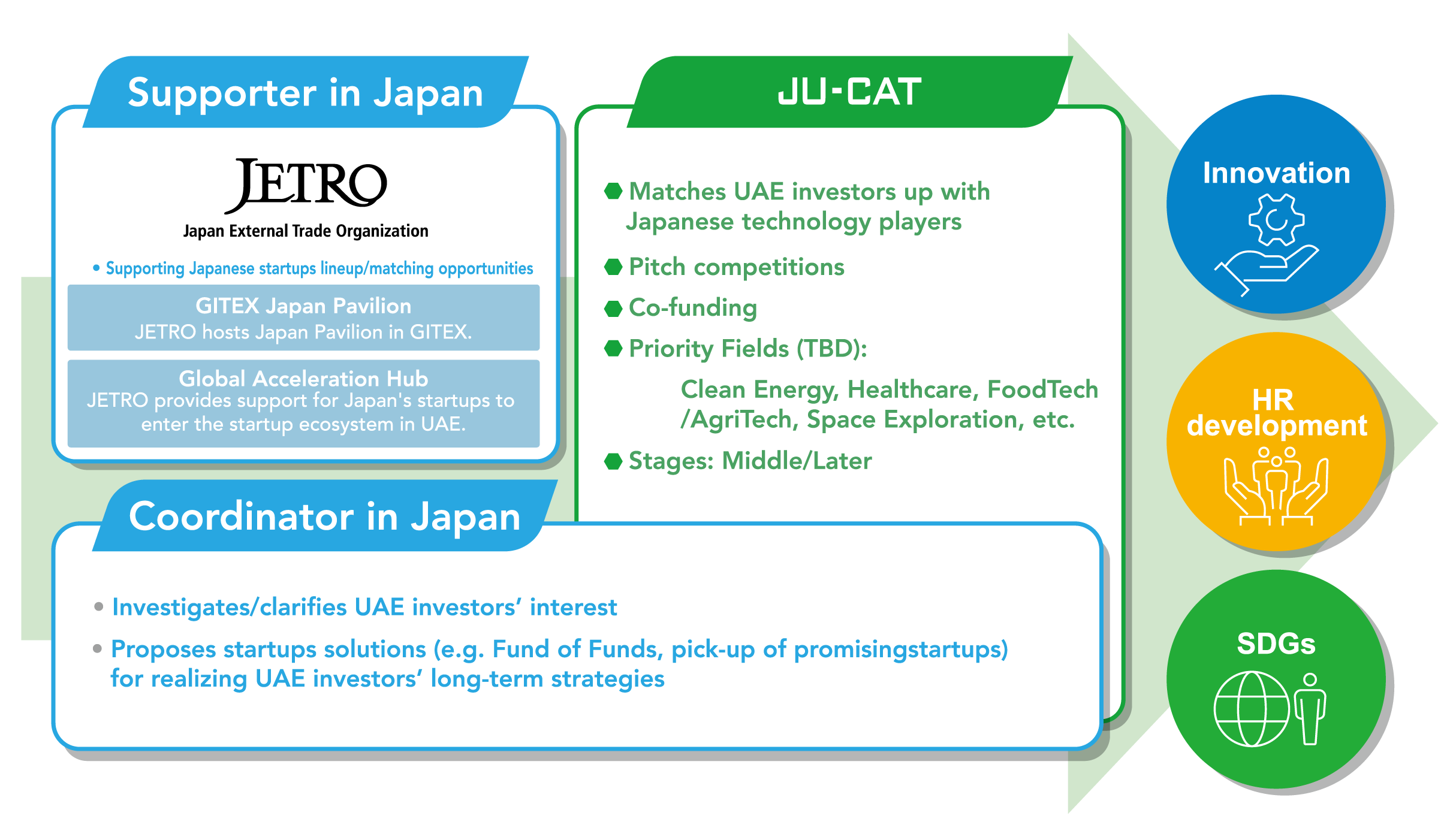 G

oals

UAE's Long-term Goals
The goal for 2030 is mainly to focus on the shift from crude oil, the environment and new technologies. The goal for 2050 is to focus more on the shift from crude oil to renewable energy.
JU-CAT will apply Japan's groundbreaking innovations to these issues, which will lead to solutions.
Goals for
2030
Economy

Abu Dhabi Economic Vision 2030
Plan Abu Dhabi 2030

Environment

Mohammed bin Rashid Al Maktoum Solar Park
Environment Vision 2030
UN Agenda 2030

Technology

Dubai 3D Printing Strategy
Dubai Industrial Strategy 2030

Mobility

Abu Dhabi Transportation Mobility Management Strategy
Dubai Autonomous Transportation Strategy
Surface Transport Master Plan

Space

Emirates Lunar Mission
Emirati Interplanetary Mission 2028
Goals for
2050
Energy
&
Renewable
Energy


UAE Energy Strategy 2050
Dubai Clean Energy Strategy
Integrated Waste Management Strategy
RAK Energy Efficiency and Renewable Energy Strategy
Environment Vision 2030

Infrastructure

Fujairah 2040 Plan
Dubai Industrial Strategy 2030

Water

UAE Water Security Strategy 2036

Knowledge

UAE Strategy for Artificial Intelligence
National Advanced Sciences Agenda 2031
Collaboration
Potential Collaboration Themes/Startups from JU-CAT
Establishing Joint Ventures・・・The establishment of joint venture companies between Japanese startups and UAE companies. Not just sales companies, but also companies involved in joint development, the creation of intellectual property, the development and manufacture of new products, expanded not only in the Middle East, but also on a global scale in order to realize an export model from the UAE.
Technology licenses from Japan to the UAE (incl. joint developments/studies)・・・Simple technology licenses. Introducing Japanese advanced technology to UAE companies will support their acquisition of green tech technology.
Financial investments・・・Investments from the UAE to growing Japanese startups and/or co-investments with UAE companies to global startups.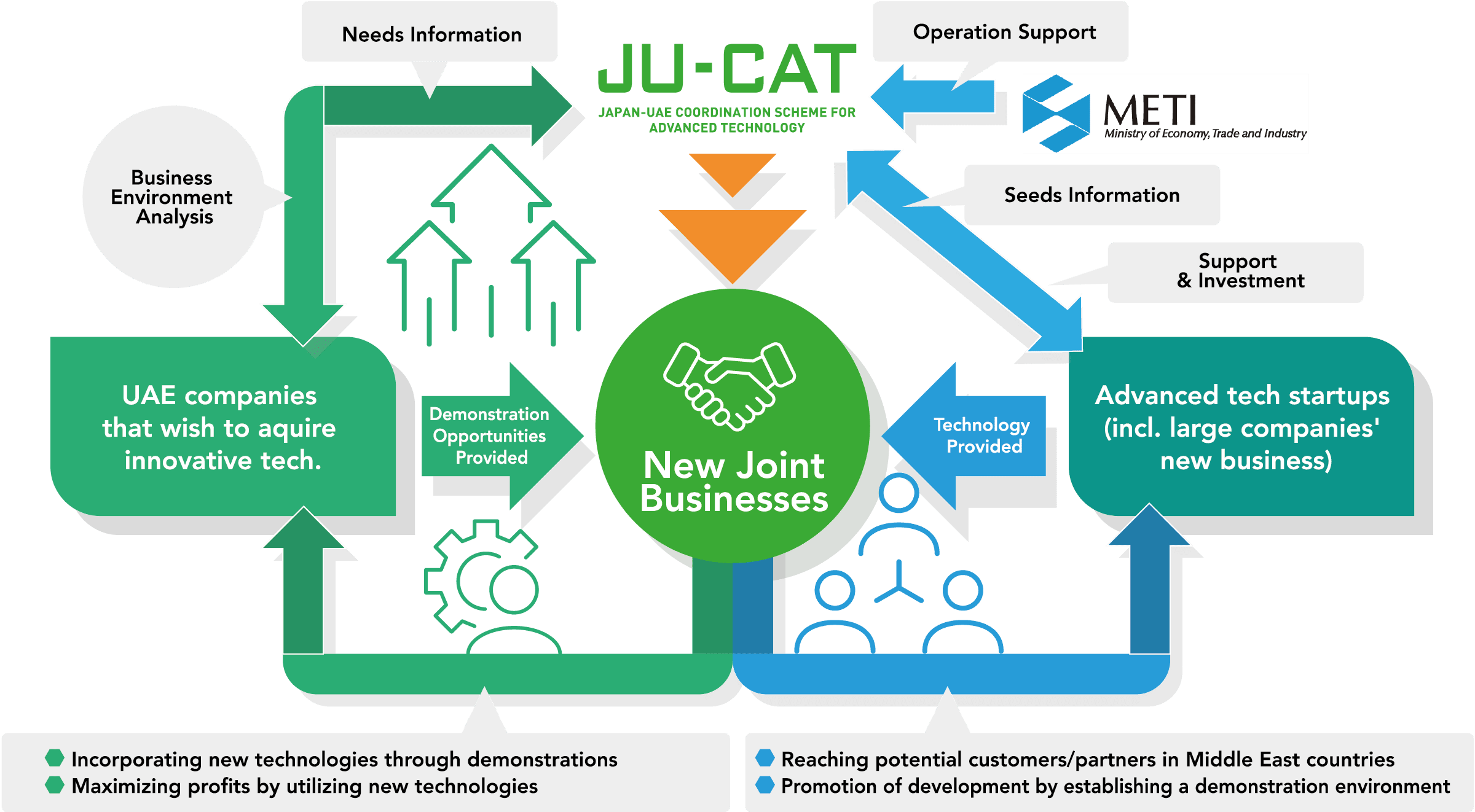 Fields
Business Models
There are over 100 startups (mainly Japanese) that are potential partner for the UAE's long-term goal. (UMI has already found over 1,000 advanced tech startups.)
JU-CAT seeks unique Japanese innovative startups for collaboration based on Emirati needs.
JU-CAT also seeks unique global innovative startups supported by Japanese industry for Emirati partners.
Technology Fields for
the UAE's Goals
Keyword Examples for Individual Themes

Clean Energy

New Batteries, Battery Management,
Hydrogen, Nuclear Fusion
CCS/CCUS
/Green Chemicals
New carbon capture system using
advanced materials and Green LP gas

Recycling Tech

Rare Earth/Metal Recycling, Plastic
Recycling, Chemical Recycling

Water Tech

Waste Water Treatment

Bio Tech

Bio Plastic Algae tech, Chemical
Production Systems Using Bio Tech

Food/Agri Tech

Plant-based Meat, New Nutrients

Health care

QOL solutions for diabetics,
wearable management

Space

Small satellite technology,
Space debris collection